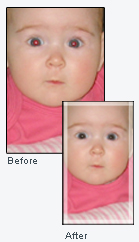 iSYS - Intelligent System Solutions Corporation produces software for automated image analysis applications.
The primary focus of iSYS is the photo imaging market. Our flagship product is the iSYS PixFix® Red-Eye system, an industry leading automated solution for removing the well-known red-eye phenomenon from digital photos.
iSYS has also developed a number of other products for automated image manipulation under the PixFix® banner. All of these products are compatible with virtually all operating systems and can be embedded on various platforms as well.

iSYS is pleased to announce it has entered the Forensics market with the CSIpix Digital Comparator Software product. Information and a trial version can be found at www.csipix.com.